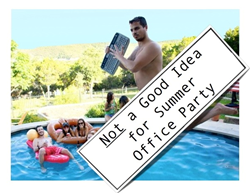 ATLANTA (PRWEB) July 21, 2014
Deena Pargman, Ph.D., founder and CEO of DB Pargman Consulting LLC, reveals Five Hot Summer Harassment Survival Strategies based on her many years of providing sensitivity and diversity training. Dr. Pargman says shes seen it all and can reveal some patterns that will help office workers enjoy a fun summer but also stay out of possible career jeopardizing trouble.
According to Dr. Pargman, the summer months can present a hot-bed of loose situations that lead to later harassment claims. Relaxed schedules, departure from routine to accommodate summer vacation travel, summer parties and BBQs and blistering heat can all combine to create some hot summer moments that you might end up sweating over later. With the heat outside comes a more relaxed environment that can lull people to be off their best professional game and seduce them into doing or saying things they might otherwise not if things werent so relaxed, says Dr. Pargman.
As the nations leading provider of Harassment Prevention and Sensitivity Training for over fourteen years, Dr. Pargman warns: summertime heat waves can come back to burn you, however, with a little forethought there is no reason to take all the fun out of summer. They key, according to the experienced HR consultant, is to remember that all "fun" be in accordance with your company policies and expectations of your office environment.
Dr. Pargman offers the following Five Hot Summer Harassment Survival Strategies:
(1)