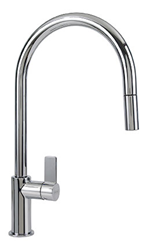 Smyrna, TN (PRWEB) April 16, 2015
The new Ambient Series from Franke Kitchen Systems encompasses a full range of kitchen faucets and complementary components, featuring a sleek, contemporary design and water-saving flow rates, all at mid-range price points. It is designed expressly for the U.S. market under the direction of product manager Lars Christensen.
Full assortment of faucets: The new Ambient family offers consumers and designers more than a half dozen models to consider when outfitting a new kitchen. Besides the 16-1/2-inch-tall flagship of the line (photo right), Ambient also includes prep and bar faucets, all equipped with a brass pull-down, dual-spray head that extends up to 21 inches. Users can simply toggle between full and needle patterns.
Measuring 18-7/8-inches tall, the Semi-Pro model features an arched, fully rotating, flexible spout that can be fixed into a straight-ahead position with its press-and-click stabilizer arm. Hose construction consists of a silicone inner core protected by a low-friction, smooth nylon, braided, outside mesh.
In markets that require lower kitchen cabinet clearances, the Ambient Series offers an 8-1/2-inch-tall faucet with a pull-out rather than a pull-down spray. This model also delivers full and needle spray patterns, as does yet another version that includes the basic Ambient model, but with a sidespray that extends up to 28 inches.
Finally, for those seeking an executive chef look in their kitchens especially if they have ample space above their sinks Ambient meets their needs with the statuesque Masterchef. Measuring 24 inches-tall, this elegantly designed faucet comes equipped with a pull-down sprayhead that extends eight to 10 inches and, like the Semi-Pro model, is held in place by its press-and-click stabilizer bar.
Available in a chrome or a satin nickel finish, all Ambient faucets feature spouts that swivel 180